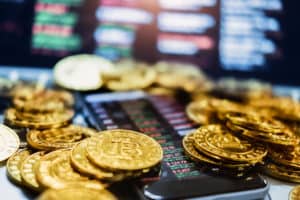 Cowen has partnered with and invested in digital asset blockchain technology provider PolySign as it looks to provide institutional clients access to cryptocurrencies.
As part of the partnership, Cowen made a $25 million strategic investment in the company after leading a $53 million Series B financing round.
Cowen will also integrate PolySign's digital banking technology into its trading platform and work with PolySign to implement a digital asset solution for institutional clients. PolySign will provide crypto custody via its subsidiary, Standard Custody & Trust Company, a regulated qualified custodian of digital assets. 
The subsidiary combines proprietary blockchain technology, end-to-end encryption and distributed trust protocols to protect secret keys.
Cowen's co-president and chief operating officer, Dan Charney and John Holmes, have been appointed to PolySign's board as part of the investment.
Major financial institutions have been increasingly engaging in the digital asset market and several large institutions have backed crypto infrastructure initiatives recently to provide clients with more services to support cryptocurrencies. 
US investment bank Goldman Sachs led a $15 million funding round for institutional cryptocurrency financial intelligence firm, Coin Metrics, earlier this month. Deutsche Börse and Commerzbank also entered a partnership with FinTech, 360X, in April that will see the development of a digital asset trading platform. 
"As digital assets continue to grow and mature as an asset class, institutional investors need trusted custody and trading solutions on par with their requirements for investing in traditional securities," said Jeffrey Solomon, chair and chief executive officer of Cowen.
"Led by a best-in-class team of cryptocurrency and financial services pioneers, PolySign has developed proprietary, next-generation blockchain technology that we believe will be foundational to the development of secure, trusted digital asset infrastructure."