The chief executive of Credit Suisse has hailed the turnaround of its flagship algorithmic trading platform following a revamp, as the Swiss bank came out on top ahead of its main trading rivals in Q2.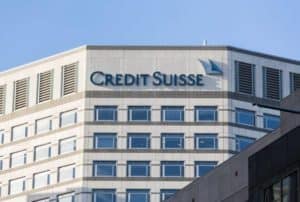 Last week, Credit Suisse recorded income of $359 million in its global markets division, a massive 141% increase year-on-year, despite facing tough market conditions.
In comparison to its Wall Street peers, it was the only bank that recorded positive trading revenues for the second quarter. It was also one of the stronger performers across fixed income, currencies and commodities (FICC) and equities trading.
US investment banks posted an average 8% drop in trading revenues in the second quarter, as did Swiss rival UBS.
The significantly improved performance of the bank coincides with the Credit Suisse's shift in focus to electronic trading over the past year.
Speaking on Credit Suisse's second quarter earnings call with analysts, its CEO Thidjane Thiam, explained that it has now begun to take back market share after turning around its flagship advanced execution services (AES).
"AES, our automatic trading platform which we've really revamped and we're regaining market share," said Thiam.
"Clearly during the restructuring, we have lost share. We've come back with a completely different business."
He added that the bank has reshuffled around half of its managing directors within the equities division, and in March, appointed 18-veteran Julian Corner as head of EMEA for AES. All of this has resulted in the bank re-establishing historic electronic trading relationships, Thiam added.
"So its new people, the leadership team is new, new technology and we've been gaining share almost with every client," he said.
Credit Suisse also reported further gains in its prime brokerage division, both in revenues and new mandate wins, which helped offset losses in equity derivatives.
Credit Suisse recently reorganised its global markets prime services top brass by appointing two of its most senior prime brokerage executives to jointly lead the division. In June, John Dabbs and Ryan Nelson have been promoted to Credit Suisse's equities management committee, with responsibility for global markets prime services
In the previous quarter results, Thiam said to investors that the business was able to generate more revenues with 25% less leverage, and revenues per unit of leverage were up 31% year-on-year.