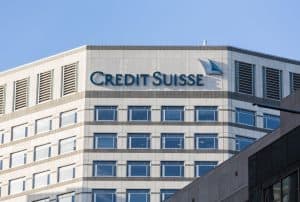 Credit Suisse has reorganised its global markets prime services top brass by appointing two of its most senior prime brokerage executives to jointly lead the division.
John Dabbs and Ryan Nelson have been promoted to Credit Suisse's equities management committee, with responsibility for global markets prime services, The TRADE understands.
Dabbs currently global markets head of prime brokerage in New York, and has served in a range of senior prime and derivatives roles over a nearly 10-year period.
Meanwhile, Nelson has led global prime financing, also in New York, after joining from Swiss-rival UBS last year. He was formerly global head of equity finance sales and head of global equity finance distribution in the Americas for UBS. Both Dabbs and Nelson will keep their titles in prime brokerage and prime financing respectively.
A Credit Suisse spokesperson declined to comment.
Credit Suisse has seen a turnaround in its prime brokerage unit after 18 months of cutting back non-profitable hedge fund clients and staff. The Swiss-based bank stated in its first quarter earnings that it had seen increased profits from the business following a programme of optimising and rationalising its prime brokerage balance sheet.
Tidjane Thiam, CEO, Credit Suisse said to investors that the business was able to generate more revenues with a 25% less leverage, and revenue per unit of leverage were up 31% year-on-year.
Over the past year and half, Credit Suisse has undergone a significant programme to reduce costs for prime services, including a reduction in the number of centres for its collateral management operations and a focus on its most profitable hedge fund clients.
The prime brokerage team has also seen a number of high profile cuts under Paul Galietto, the former global head of prime services. He has since been appointed global markets head of equities.
However, the firm has since steered its focus to its hedge fund clients, and hired a new US head of the division and a new head of US prime financing sales. Hedge funds have become an important focus for the investment bank's equities divisions, whereby execution and financing is increasingly being linked.