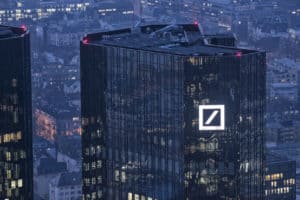 Deutsche Bank has made plans to restructure its operations in Ireland as part of its ongoing strategy for simplifying operations and reducing costs originally launched in 2019.
As part of the restructure, the bank said it will relocate around 250 roles from their offices in Ireland, which it originally opened in 1991, to other centres around the world.
Dublin will remain a major centre for the corporate banking business and its data and innovation lab, with 35 new front-office roles being added to the corporate unit over the coming months and 200 employees expected in Dublin across these two divisions.
"We understand that the proposed plan will cause uncertainty and concern to impacted colleagues, and we are committed to supporting them through the consultation process. Dublin will continue to be an important centre for the bank," said Mary Campbell, chief country officer of Deutsche Bank Ireland.
Deutsche Bank confirmed in July 2019 that it would be implementing a major business overhaul with plans to achieve a targeted reduction in adjusted costs of around €6 billion by next year and the loss of approximately 18,000 full-time positions.
"Today we have announced the most fundamental transformation of Deutsche Bank in decades," Christian Sewing, chief executive of Deutsche Bank, commented on the restructure in 2019.
"We are tackling what is necessary to unleash our true potential: our business model, costs, capital and the management team. We are building on our strengths. This is a restart for Deutsche Bank – for the long-term benefit of our clients, employees, investors and society."