Deutsche Bank has agreed to acquire institutional broker Numis for £410 million, according to documents seen by The TRADE.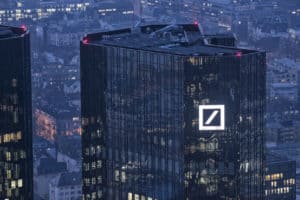 The deal will throw Deutsche Bank back into the fore of European equities after it moved to exit the market by signing over its electronic equities business to BNP Paribas alongside its prime brokerage business in 2019.

The bank has been evaluating how to accelerate the growth of its UK business after identifying it as the largest investment banking market in Europe, documents seen by The TRADE outlined, adding that the combination of the pair's businesses across corporate broking, strategic advisory, equity and debt capital markets, and equity sales, research and execution should allow them to "unlock significant value" within their franchises. 

"This Transaction is strongly aligned to our Global Hausbank strategy and has the potential to unlock significant value within both the Numis and Deutsche Bank franchises," said Fabrizio Campelli, head of corporate bank and investment bank at Deutsche Bank. 

"We have been evaluating how to accelerate the growth of our business in the UK and, as a leading UK franchise with a long history of successfully delivering superior client service and growth, Numis represents a compelling strategic fit. The combination enables us to realise greater revenue opportunities across our shared client base and to deepen our engagement with UK corporates. There is strong and complementary cultural alignment between Deutsche Bank and Numis that will propel the combined business to deliver exceptional client service, and we look forward to welcoming Numis management and employees to the Deutsche Bank Group."

The decision follows the shuttering of Numis' low touch electronic trading business last week, as revealed by The TRADE, after the broker confirmed the platform was no longer considered one of its "core businesses". 
According to a source familiar with the matter, clients were informed and will be sourcing their own alternatives to the platform for their electronic flow. Around five members of staff have been made redundant following the decision. 

Numis reported a 70% drop in full-year pre-tax profit at the end of 2022 thanks to a slowdown in initial public offerings and equity-raising activity that hit banks and brokers across the board.
Numis said revenue in the first half of this financial year is expected to be about £64 million in a trading update earlier this month, around 14% lower than last year.