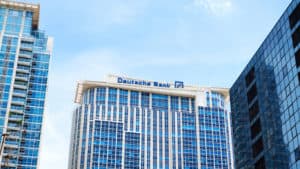 Deutsche Bank has warned it could see a major impact on its business and financial targets as a result of the expanding coronavirus pandemic.
The German investment bank made the admission in its 2019 annual report, although stressed that at this stage it could not predict the specific repercussions of the pandemic on the bank.
"The current COVID 19 pandemic and its potential impact on the global economy may affect our ability to meet our financial targets," Deutsche Bank said. "While it is too early for us to predict the impacts on our business or our financial targets that the expanding pandemic, and the governmental responses to it, may have, we may be materially adversely affected by a protracted downturn in local, regional or global economic conditions."
Chief executive at Deutsche Bank, Christian Sewing, added that the business had seen a good start to 2020, after delivering in line with or slight ahead of the targets outlined under the bank's transformation strategy.
According to the annual report, 70% of total anticipated transformation-related effects were enforced as of the end of 2019, with 4,140 full-time employees, or 5% of the workforce, already cut as part of the transformation plans.
"Our financial strength positions us well to support our clients in the current period of uncertainty," Sewing said. "At this time, it is of course not possible to predict all the repercussions on the economy as a whole. But our new strategy leaves us far better equipped for financial market turbulence now than we were a year ago."  
Deutsche Bank confirmed in July that it would implement the biggest business overhaul the bank has seen in a decade, with plans including a targeted reduction in adjusted costs of around €6 billion by 2022 and the loss of approximately 18,000 full-time positions.
The institution also agreed to transition its prime brokerage and electronic equities franchises to BNP Paribas following years of doubt on sustainability of the businesses. The bank's annual report said the transaction with BNP Paribas is on track to be completed by the end of 2021.