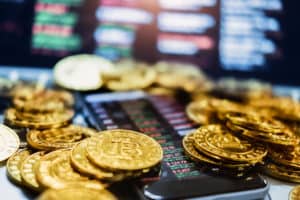 The European Parliament has firmed up its regulatory stance surrounding cryptocurrencies in a bid to boost investor confidence and support the development of instruments.
Members of the European Parliament (MEPs) voted in favour of draft rules on supervision, consumer protection and sustainability of crypto-assets on 14 March.
Known as the MiCA report, the key provisions cover transparency, disclosure, authorisation and supervision of transactions for those trading and issuing cryptocurrencies.
MEPs have requested that the European Securities and Markets Authority (ESMA) be responsible for supervising the issuance of asset-referenced tokens while the European Banking Authority (EBA) will oversee electronic money tokens.
In a bid to counter sustainability issues around crypto-asset mining activities MEPs have also requested that the European Commission present them with a proposal to be include in EU taxonomy legislation.
The proposals also aim to support market integrity and stability by regulating public offers of crypto-assets, while the text has also set out measures to prevent market manipulation and other criminal activities.
There has been widespread relief from market participants over the final proposals after regulators began toying with the idea of banning proof of work currencies and instead only allowing proof of stake on sustainability grounds. This would have heavily impacted crypto-asset trading in Europe by more or less banning Bitcoin.
"By adopting the MiCA report, the European Parliament has paved the way for an innovation-friendly crypto-regulation that can set standards worldwide," said Stefan Berger, lead MEP.
"The regulation being created is pioneering in terms of innovation, consumer protection, legal certainty and the establishment of reliable supervisory structures in the field of crypto-assets. Many countries around the world will now take a close look at MiCA."
In a deep dive into institutional demand for crypto-asset trading, Fidelity Digital Asset's Chris Tyrer told The TRADE that the implementation of MiCA was a key milestone in ramping up interest from traditional firms in digital assets.
"I think that we will start to see meaningful moves from banks and other financial intermediaries in the lead up to the implementation of that regulatory piece," he said.
The development follows an announcement from the UK's Financial Conduct Authority (FCA) last week, reiterating that economic sanctions against Russia following its invasion of Ukraine "do not differentiate between cryptoassets and other forms of assets" and adding that the use of cryptoassets to circumvent sanctions was a criminal offence under the Money Laundering Regulations 2017.
The UK watchdog said it had written to all registered crypto firms and those holding temporary registration status to reiterate this and set out red flag indicators firms should look for that might suggest an increased risk of sanctions evasion.