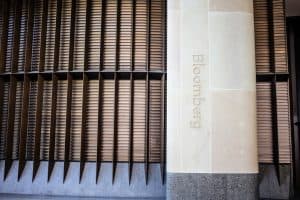 Bloomberg has launched a new all-to-all intermediated trading service for emerging markets and corporate bonds.
Named Bloomberg Bridge, the service is supported by intermediation desks at Goldman Sachs and allows users to launch and respond to request-for-quotes (RFQs).
It is scheduled to go live in Europe in the second quarter of this year with plans to expand into US and Asia Pacific in the future.
All-to-all trading – which allows the buy- and sell-side to transact anonymously regardless of firm type with asset managers able to take on a liquidity provider role for each other as well as dealers – has become increasingly popular in the last few years.
Research by Coalition Greenwich found that it accounted for 12% of corporate bond volumes in 2020, up from 8% in the previous year.
Bloomberg said its new service would connect users with its network of around 3,700 institutional investors and dealers.
"As market structure continues to evolve, liquidity is becoming more diverse, and market participants are looking for more efficient ways to execute trades," Nicholas Bean, global head of electronic trading at Bloomberg told The TRADE.

"We're launching Bloomberg Bridge to provide clients globally with new pathways to access the broadest depth and breadth of liquidity. This solution reflects the continued investment in our electronic trading solutions business, as we focus on enhancing existing offerings and bringing innovative products to market."
Several other platforms and institutions have invested in all-to-all solutions in the last year in light of growing demand for the method of trading.
Most recent was Barclays, which joined MarketAxess' credit all-to-all institutional order book, MarketAxess Live Markets, as a market marker in May last year.