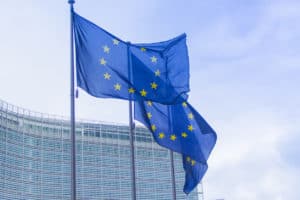 The European Securities and Markets Authority (ESMA) has valued the EU derivatives market at €735 trillion at the end of 2018, driven by a surge in trading across interest rate derivatives (IRDs).
As part of an annual statistics report, ESMA said the EU derivatives market grew from around €660 trillion in overall notional outstanding in the first quarter of 2018, to €735 trillion by year-end, and the market saw a peak notional amount in the second quarter of €900 trillion. The overall growth to €735 trillion reflects an 11% increase from 2017. 
Over the course of the year, ESMA added IRDs' notional amount increased 24% from €448 trillion in the first quarter of 2018 to €557 trillion by year-end, accounting for 76% the overall notional amount.
The report also showed that over the counter (OTC) trading still leads the derivatives market, as it accounted for 90% of notional traded by the last quarter of 2018, while the remaining 10% were traded on exchange.
When also considering the proportion of derivatives executed on trading venues including multilateral and organised trading facilities (MTFs and OTFs), ESMA revealed the share of notional amount traded on venue grew throughout 2018 from 13% to 17%. The growth is thought to have been impacted by requirements under MiFID II.
"This trend may partly be due to the MiFID II trading obligation, implemented in January 2018, which requires that products subject to the clearing obligation which meet certain conditions be traded on trading venues from January 2018," ESMA said. "That said, some of the growth seen above may also be from improvements in reporting, with trading venues now more explicitly reported with the implementation of MiFID II."
Elsewhere, IRDs and credit derivatives dominated central clearing of OTC derivatives in 2018 following the roll-out of clearing obligations under EMIR. IRDs accounted for 63% of the proportion of OTC notional amount centrally cleared, up from 61% earlier in the year, followed by credit derivatives which accounted for around 25%.
"For IRDs central clearing was carried out mostly by central counterparties (CCPs) in the EU (between 57% and 58% of the total outstanding notional amount throughout 2018), while on average 4% of the total notional amount outstanding was cleared by CCPs located in a third country," ESMA said. "For credit derivatives the proportion of notional amount cleared by EU CCPs increased during 2018, from 11% of total outstanding in 1Q18 to 13% in 4Q18. The proportion of notional amount cleared in a third country CCP was on average 12% of the total in 2018."