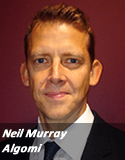 Fixed-income liquidity solutions provider Algomi has appointed Neil Murray as head of European sales.
Murray, who will be based in London, will work closely with Algomi chairman Michael Schmidt and CEO Stu Taylor in driving the firm's European sales and marketing.
He will focus on growing Algomi's client base across the buy- and sell-side, and will also contribute in future product design.
Murray has worked at Nomura and BNP Paribas as head of investment grade corporate trading, and was a senior credit trader at RBS, UBS and Commerzbank. 
"Given the pressures being exerted on the market by regulation and subsequent client demand, Algomi's product is clearly compelling, and the firm has the expertise to support its proposition," Murray said.
"I look forward to working with the senior management and the rapidly growing team to deliver a viable and innovative solution that will help both buy and sell-side firms evolve and modernise their fixed income businesses."  
Algomi, which was created in 2012, runs a matching service for fixed income traders. It allows dealers and liquidity providers to centrally organise, process and distribute their liquidity flows. The goal is to help sell-side firms to service client trades in a strategic and coordinated effort, delivering the best service and balance sheet visibility, while meeting capital obligations under Basel III. 
The Algomi Connectivity Hub is a centrally hosted solution that enables trading platforms to consume liquidity from a range of sources, including inter-dealer brokers, multilateral trading facilities, swap execution facilities, via a single connection.