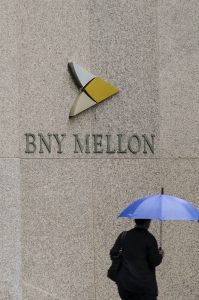 BNY Mellon has confirmed the appointment of Emily Schlosser, the former head of change for global markets at Goldman Sachs, as Pershing's new chief operating officer.
In her new role, Schlosser will be responsible for leading Pershing's operational functions and setting its strategic direction.
In her most recent role as head of change for global markets at Goldman Sachs, Schlosser was responsible for the transformation of the institutional client experience as well as overseeing initiatives to drive revenue, manage risk management, and build scale.
"We are thrilled to welcome Emily as Pershing's chief operating officer. Client experience is a critical driver of today's business decisions, and we believe this will continue for the foreseeable future," said Pershing CEO Jim Crowley.
"With her proven track record of driving major corporate transformations across financial services, experience structuring complex change programs, and success creating best-in-class client on boarding solutions, Emily will be integral in our efforts to continually elevate the advisor and investor experience."
Schlosser, who graduated from Columbia University with an MBA in 2008, has accumulated over 10 years of industry experience including serving as COO of corporate services at E*TRADE and as principal at A.T. Kearney.
BNY Mellon reported earlier this month that its earnings for the second quarter of 2020 came to a total of $901 million.
BNY Mellon chief executive Todd Gibbons reflected upon the market volatility the coronavirus pandemic had brought in the first quarter of 2020 but stated that BNY Mellon remained ambitious.
"As we look ahead to the remainder of 2020, downside risks remain from the economic uncertainty and the significant pressure from low interest rates. Despite this, our underlying business remains strong, benefiting from the improving quality and efficiency of our operations and the level of the client experience," Gibbons said in a statement.