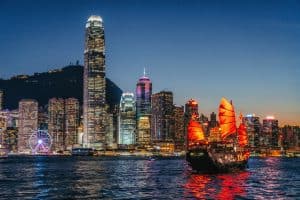 The Hong Kong Exchange and Clearing (HKEX) has confirmed it is partnering with blockchain specialist Digital Asset for a new post-trade platform using the technology.
HKEX will trial the technology to help complete post-trade allocations and processing for northbound trades under Stock Connect within a tight settlement window.
Investors trading Mainland China-listed A-Shares through the trading programme are constrained within a four-hour window, meaning they have to complete their trade allocations and settlement initiations almost immediately.
"We completed recently a successful functional prototype development in partnership with Digital Asset to resolve these constraints," said a HKEX spokesperson. 
"We have done this in collaboration with a key group of market participants."
The prototype will allow market participants to specify their settlement workflows in advance, helping to bridge time zones when using multi counterparties, while enabling real-time synchronisation of post-trade status between asset managers, brokers, custodians, and HKEX's clearing house.
HKEX is now planning to engage with a wider base of market participants to gather potential production requirements ahead of the second phase of the prototype.
"Our partnership with Digital Asset is part of a long-term commitment to innovation at HKEX and reflects our approach of adopting technological innovations to address genuine issues facing our markets," the spokesperson added.
Earlier this year, it was reported HKEX was working with its Australian counterpart, the Australian Securities Exchange (ASX), in developing a blockchain-based settlement and stock lending system.
The ASX is targeting a 2021 go-live for the replacement of its equities clearing and settlement platform with blockchain technology developed by Digital Asset.
Speaking at Sibos 2018 in Sydney last week, Digital Asset CEO Blythe Masters said organisations should be looking at what blockchain technology can do for them internally, as well as externally for clients.
"The total addressable market for deploying this technology is much greater than people really understand," explained Masters. "Reconciliation consumes a lot of messaging, resources and expense. Within the organisation, actually, the extent of requirements for internal validation, restraints, and controls and results of reconciliations is probably a factor of 100 – or even more than that – times as great of a burden."
"Think about the distinction between the operations department, the risk department, the front office and trading department, command and control, reconciliation all the way back to the general ledger. These are all processes that can equally benefit from the technology that we are talking about here, where you need encourage separation, privacy or confidentiality or certain aspects."