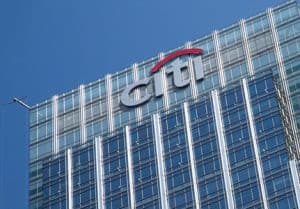 US exchange group Intercontinental Exchange (ICE) has confirmed that Citi has become the latest bank to join its exchange traded funds (ETFs) ecosystem as an authorised participant.
The exchange said Citi was also a founding member of the ICE ETF Hub advisory committee and had given early feedback on the design of the platform.
"As an early member of our advisory committee, Citi has provided valuable insights and constructive guidance, which have been critical in improving the platform and bringing more efficiencies to the ETF primary market," said Peter Borstelmann, president of ICE bonds and head of the ICE ETF Hub. "Because of this, we're particularly excited to have them join the platform as an authorised participant."
Launched in October last year, ICE ETF Hub aims to simplify the creation and redemption process of ETF shares, and currently supports both US-listed domestic equity and fixed income ETFs. Citi joins several other major institutions also operating as authorised participants, including Goldman Sachs, Credit Suisse, Citadel Securities, and Virtu Financial, among others. 
"Having an efficient and automated creation and redemption process is critical for the effective functioning of global ETF markets," said John Mann, head of global fixed income and currencies beta trading at Citi. "ICE ETF Hub provides a standardised way to respond to orders, and the new custom basket technology gives us more flexibility for screening, communicating, and assembling custom baskets."
ICE ETF Hub recently launched an automated functionality allowing ETF primary market participants to negotiate and assemble custom basket proposals.
"This functionality helps fixed income market participants transition away from the many manual, bespoke processes in use today, increasing scale and reducing operational risk through standardisation and automation," the exchange said in a statement.
In June, JP Morgan Asset Management signed up to become a member of the ICE ETF Hub advisory committee, which focuses on improving and developing the open architecture platform for issuers, authorised participants, market makers, and custodians.