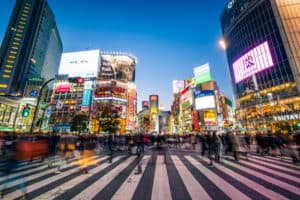 Japan Exchange Group (JPX) has made a minority investment of $3.1 million in Digital Asset Markets as of 25 February 2022.
Digital Asset Markets provides crypto-asset exchange services and handles Zipangcoin, a crypto asset issued by Mitsui & Co. subsidiary, Mitsui & Co. Digital Commodities.
Zipangcoin is a crypto asset which is linked roughly to the price of physical gold, providing convenience while also allowing small-lot trading amongst retail investors through digitalisation.
As part of the investment, JPX seeks to strengthen its existing relationship with Digital Asset Markets and Mitsui & Co. Digital Commodities, while adding to the acquisition of expertise in the digital asset space and the development of new business areas.
The move by JPX follows increased institutional interest in crypto that has been witnessed over the last few months.
Last week, Bloomberg AIM and Elwood Technologies revealed plans to integrate to improve its institutional crypto capabilities.
Elsewhere, crypto prime brokerage Genesis demonstrated crypto's growing presence in mainstream trading through the release of record performance figures for the fourth quarter of 2021.