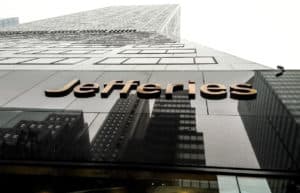 Investment bank Jefferies has confirmed the appointment of a senior global markets finance executive from Barclays as its new chief financial officer.
Matthew Larson joins Jefferies as CFO and will replace Teresa Gendron, who was put in the role temporarily following the death of Peg Broadbent in March due to complications with coronavirus.
Prior to his new role at Jeffries, Larson held various senior roles at Barclays including CFO of Barclays Americas and CFO of Barclays Global Markets. He previously worked at Goldman Sachs as a managing director within the bank's finance division.
"We are very pleased that Matt will soon become Jefferies Group's CFO," said Jefferies CEO, Rich Handler, and chairman of the executive committee, Brain Friedman, in a joint statement. "Matt's experience and skills make him well qualified to be our CFO and to oversee our corporate support functions. We want to thank Teri for the tremendous support she has given Jefferies Group as its interim CFO."
Jefferies confirmed in a statement in late March that it's chief financial officer, Broadbent, had passed away following coronavirus complications. He had been with the investment bank since 2007 as executive vice president and chief financial officer. In June, Jefferies said it had raised over $9 million for charities dealing with the impact of coronavirus following the death of Broadbent.
"We could not be prouder of our entire Jefferies family for raising $9.25 million and are greatly appreciative of the incredible partnership our clients have shown us in supporting our fight against Covid-19," Jefferies said at the time.