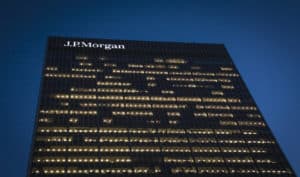 JP Morgan has executed a repo trade using an in-house blockchain application following successful simulations with Goldman Sachs and BNY Mellon.
The intraday repo trade was settled instantly on the Onyx blockchain platform and swapped digitised US treasury bonds for JP Morgan's dollar-backed cryptocurrency known as JPM Coin.
JP Morgan said blockchain technology facilitated the instantaneous settlement and maturity of the repo transaction in hours rather than days and creates new ways to access intraday liquidity.
"The current repo market has some technical inefficiencies, and we identified blockchain technology as a way to reduce our clients' intraday risk profile," said Scott Lucas, head of markets distributed ledger technology (DLT) at JP Morgan.
"By deploying blockchain, we created new opportunities to streamline operational processes and accelerate settlement for repo. Our new solution will help unlock trapped pockets of liquidity for intraday use and allow for reduced risk profiles for our clients and JP Morgan."
JP Morgan developed the blockchain platform via its new business unit Onyx which is dedicated to scaling and commercialising the technology, focusing on products and services with its JPM Coin. The bank completed a simulation of trades similar to the repo transaction using blockchain with Goldman Sachs and BNY Mellon as the triparty agent.
"This is an exciting project which vividly highlights where enterprise blockchain can address a real-world problem in the financial system and we look forward to going live in early 2021," said Mathew McDermott, global head of digital assets at Goldman Sachs.
Investment banks, asset managers, and exchanges globally have increasingly explored using blockchain technology for trading and settlement processes.
In June, Vanguard collaborated with blockchain specialist Symbiont, BNY Mellon, State Street, and Franklin Templeton on a blockchain pilot for FX forwards trading. The pilot demonstrated that the forwards market could execute and document trades on a single unchangeable record while moving and settling collateral instantly.
Elsewhere, Commerzbank, Deutsche Börse, and MEAG completed settlement of secondary market repo trade with blockchain technology using delivery versus payment and transfer of tokenised cash.