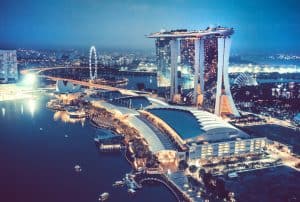 JP Morgan is set to launch an electronic FX trading and pricing engine in Singapore early next year, following in the footsteps of several other institutions that are expanding FX operations in the region
The US investment bank said the new platform, which is backed by the Monetary Authority of Singapore (MAS), will cover a range of spot FX and precious metals, and has been designed to accelerate trade executions for clients.
JP Morgan already operates FX trading and pricing engines in New York, London and Tokyo, with Singapore marked as the fourth location that the bank will expand into. Sudhanshu Sanadhya, head of Asia currencies and emerging markets trading at JP Morgan, commented that Singapore has been the firm's long-standing FX hub in Asia.
"This partnership with MAS will improve client experience through reduced latency in trade execution and greater price transparency. With electronic FX trading set to grow in the region, Singapore will benefit from the flows and we see this initiative consolidating Singapore's position as Asia's leading FX trading centre," Sanadhya added.
Other major financial institutions, including UBS, Citigroup, Standard Chartered, Euronext, Jump Trading and XTX Markets, have also confirmed plans to launch similar currency trading platforms, as MAS aims to boost FX trading activities across Asia.
"A number of top-tier global players are building out their electronic trading and pricing engines here, which is strong validation and endorsement of Singapore as a global FX centre," said executive director for the financial markets development department at MAS, Gillian Tan.
"With the growth in Asia's FX trading needs and increasing demand for more efficient price discovery in the Asian time-zone, regional market participants will benefit from better connectivity and latency as well as enhanced pricing and trade execution in the Singapore FX electronic trading ecosystem."