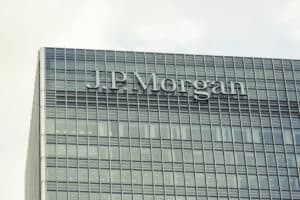 JP Morgan has reported it took a near $1 billion hit to its trading business after it had to mark down the valuation of derivatives caused by market volatility during the first quarter.
The US investment bank reported this week it had taken a $951 million loss due to the funding spread widening on its derivatives, captured under 'credit adjustments'.
The loss contributed to a 3% hit to JP Morgan's total net revenue compared to the same period last year to $29.1 billion. However, the loss was offset by significantly improved revenues from its equities and fixed income trading desks.
Equities trading revenues increased by more than a quarter to $2.2 billion driven by higher equity derivatives revenues, while fixed income markets revenues jumped 34% to $5 billion from increased client activity in rates, currencies and emerging markets.
"It might be an obvious point, but the quarter was really a tale of two cities, January and February, and then March when the crisis started to unfold," said Jennifer Piepszak, financial chief at JP Morgan, on the bank's recent earnings call.
"In terms of outlook, it goes without saying that it's too early to project this performance going forward. In fact, low rates and low economic activity may even be a headwind. However, we are in a strong position to continue playing essential role in ensuring the orderly functioning of markets and serving our clients' needs."
The impact of the coronavirus pandemic on global financial markets such as interest rates, commodity prices and foreign exchange rates could have all affected the valuation on JP Morgan's derivatives.
Due to the significant volatility in the markets over the past month, margins for cleared derivatives jumped, as clearing houses collected a record $55 billion of daily variation margin from banks.