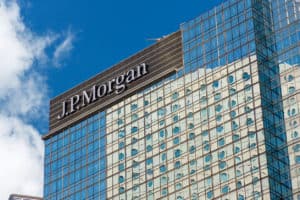 JP Morgan has released its Q4 2022 results, and the bank finds itself in a relatively robust position compared to some of its peers.
Reported revenue came in at $34.5 billion for the fourth quarter, up almost 18% from $29.3 billion in Q4 2021. Net income for the quarter was reported at $11 billion, up 6% from $10.4 billion the previous year.
The bank achieved #1 ranking for investment banking fees, with an 8% wallet share: however, its global investment banking revenues were still down by 52% on the year, to $700 million, reflecting the challenging environment Wall Street banks are currently facing amid slumping deal flow.
The bank's assets under management were also down 11%, to $2.8 trillion.
However, as with other banks, total markets revenue was up – reaching $5.7 billion, driven by fixed income, which rose 12% on the year, while equities were down 1%.
"The US economy currently remains strong with consumers still spending excess cash and businesses healthy," said CEO Jamie Dimon.
"However, we still do not know the ultimate effect of the headwinds coming from geopolitical tensions including the war in Ukraine, the vulnerable state of energy and food supplies, persistent inflation that is eroding purchasing power and has pushed interest rates higher, and the unprecedented quantitative tightening. We remain vigilant and are prepared for whatever happens, so we can serve our customers, clients and communities around the world across a broad range of economic environments."