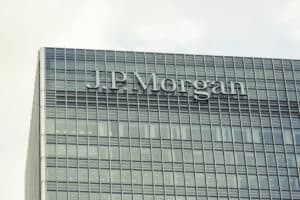 JP Morgan has seen huge uptake in portfolio trading from its buy-side clients in the US amid the recent market volatility, according to a client report seen by The TRADE.
The client report from the bank's credit trading desk revealed that so far this year, JP Morgan has executed 77% of the total portfolio trading volumes it executed throughout last year.
In 2019, JP Morgan's trading desk saw volumes for portfolio trades jump 141% compared to the year prior. A spokesperson at JP Morgan confirmed the contents of the report.
"Couple these figures with the fact that three of the past five months have yielded a rise in monthly inquiry and traded volumes, it becomes clear to JP Morgan that portfolio trading is gathering momentum," the report said.
Portfolio trading, which allows traders to package bonds into a single basket for execution in one transaction, has become increasingly popular with market participants as an efficient way to deal with large, complex and multi-faceted bond transactions.
With the increased market volatility at the height of the coronavirus pandemic in March, JP Morgan added that investors saw portfolio trading as way to guarantee instant execution.
"During periods of high volatility, the ability to manage fund inflows and outflows in an efficient and cost-effective manner becomes increasingly important. Portfolio trading offers a route to cost saving while also creating bespoke portfolios that cater to a fund's unique trading needs.
Amid the market volatility earlier this year, fixed income trading platform Tradeweb also said clients were increasingly engaging with portfolio trading to move large amounts of risk with dealers in the more volatile market conditions. Tradeweb said the number daily line items it executed via the protocol increased more than 100% in March, compared to the first two months of the year.
The electronification of bond markets and a surge in fixed income exchange traded funds (ETFs) has helped portfolio trading grow in recent years.
JP Morgan's client report also highlighted certain microstructural trends that may have impacted growth in portfolio trading more recently, including heavy levels of issuance in the months following the onset of the pandemic, which prompted firms to consider the most efficient execution methods for month- and quarter-end transactions.