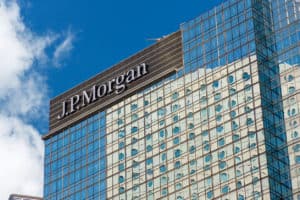 US investment bank JP Morgan will pay a $250 million penalty after the Office for Comptroller of the Currency (OCC) issued the action for risk management failures.
The US regulatory watchdog said the bank had a weak risk management and control framework, including inadequate internal controls and an insufficient audit system, across its fiduciary business for several years. 
These deficient risk management practices led to "unsafe or unsound practices", the OCC found, and insufficient means to avoid conflicts of interest. The OCC said that JP Morgan denied its findings, but it had consented to the order and had remedied the deficiencies that led to this penalty.
In September, JP Morgan was ordered to pay $920 million, the largest fine on record for its trading activity, after admitting its precious metals and US treasuries trading desks engaged in an unlawful spoofing scheme that spanned eight years.
The bank reached parallel agreements with the US Department of Justice, Commodity Futures and Trading Commission (CFTC), and the Securities and Exchange Commission (SEC) resulting in the record penalty for the illegal trading activity.
In response to the charges, JP Morgan said in a statement that it has entered into a three-year deferred prosecution agreement with the Department of Justice.