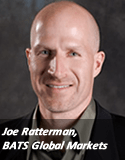 BATS is extending is reach into the foreign exchange world, announcing a deal today to acquire Hotspot FX from broker KCG Holdings.
The markets operator has, up until now, been heavily focused on equities markets, though it also operates an options exchange in the US with an 8.6% market share, but the acquisition marks one of its biggest moves outside the equity world to date.
BATS will pay $365 million for Hotspot FX, an institutional spot foreign exchange market with an average daily volume of $31.7 billion in Q4 2014.
Joe Ratterman, CEO of BATS, said: "Hotspot is an innovative foreign exchange leader which will become an important part of our expanding global footprint, and we are excited to welcome their highly-regarded team to BATS Global Markets.
"Their FX expertise and reputation, along with our technology excellence and global presence, will make for a powerful combination and enable us to have a meaningful and significant impact on the direction of the FX market in the years to come."
Hotspot saw its average daily volume grow by approximately 20% over the course of 2014 and its customers include banks, market makers, hedge funds and institutional investors.
The divestment is the second major sale by KCG Holdings since it was formed in 2013 when Getco and Knight Capital merged after the latter was left in financial difficulty following the release of a rogue algorithm that created $440 million of losses.
In December, KCG Futures was sold to US broker Wedbush Securities, which was looking to expand its futures execution and clearing capabilities.
BATS, on the other hand, is one of a number of exchange operators that are agressively expanding. Last year it completed the acquisition of US equity market operator Direct Edge, giving it a market share closer to that of traditional US equity leaders NYSE and Nasdaq.
Other exchanges have also looked to widen their own offerings to be become multi-asset class organisations. London Stock Exchange Group has been steadily pushing into the derivatives space and its soon-to-complete acquisition of Russell Investments is expected to complement this. ICE completed its acquisition of NYSE in late 2013 giving it a significant presence in equity markets, while CME Group is currently bidding to take over interdealer broker GFI Group, which operates a number of markets across asset classes.
The BATS acquisition of Hotspot FX is expected to close in the first half of 2015.