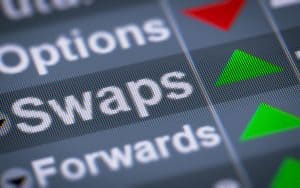 The London Stock Exchange Group's (LSEG) clearinghouse LCH has set a new record for its over-the-counter (OTC) interest rate swaps clearing service after surpassing the $1 quadrillion mark.
As of 30 November, LCH SwapClear's cleared notional volumes year to date totalled just over $1 quadrillion, while year-to-date notional compressed reached $700 trillion. The new record follows LCH Swap Clear's previous record set in the first half of this year of more than $575.8 trillion in notional cleared, up 23% from the first half of last year.
LCH has seen several key developments with the Swap Clear service, after being recognised as an approved central counterparty in Mexico for OTC interest rate derivatives, and launching non-deliverable interest rate swaps clearing in three Asian currencies.  
In July, LCH SwapClear cleared its first interest rate swaps referencing the recently established US alternative to Libor, SOFR. Credit Suisse, Goldman Sachs and JP Morgan were among the first participants to clear the SOFR (Secured Overnight Financing Rate) swaps with LCH, which the clearinghouse said at the time is testament to its support of global rates reform.
More recently, LCH expanded its LCH Spider tool with portfolio margining of SNIOA and bond futures traded on the CurveGlobal platform. The move means market participants can offset listed positions against OTC derivatives within SwapClear.
LSEG has also officially upped its stake in LCH. In October the exchange operator said that it had reached an agreement to acquire a further 15.1% of the business, taking its majority ownership to more than 80%.
At the same time, several investment banks sold part of their shares in LCH but remain minority shareholders, including Bank of America Merrill Lynch, Barclays, JP Morgan, Morgan Stanley and Societe Generale.Commerzbank, Deutsche Bank, Nasdaq, Nomura, Borsa Istanbul and  CFT & Viel & Cie sold their entire stakes in the business.