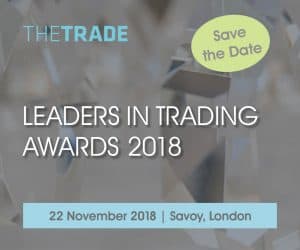 The TRADE is pleased to announce the shortlist for this year's Algorithmic Trading & EMS awards. The winners in each category will be announced at the Leaders in Trading 2018 ceremony at London's Savoy Hotel on 22 November. 
The nine categories listed will be supplemented with three further awards for overall outperformers across algorithmic trading, EMS and APAC based on the results of The TRADE's algorithmic trading, EMS and APAC surveys.

Visit our event page here for more information, to book your place and to submit nominations for this year's Rising Stars Awards.
Best trading performance
ITG
JP Morgan
Kepler Cheuvreux
RBC Capital Markets
Best customer support & consulting
ITG
Jefferies
Goldman Sachs
RBC Capital Markets
Best access to market
Bernstein
Credit Suisse
Instinet
Jefferies
Best user experience
Citi
Credit Suisse
ITG
Jefferies
Best user value
Citi
Jefferies
Liquidnet
RBC Capital Markets
Best price improvement capabilities
Instinet
ITG
Jefferies
Kepler Cheuvreux
EMS best product consistency
Flextrade
Instinet
Portware Enterprise, a FactSet Trading Solution
TORA
EMS best product availability
Flextrade
Instinet
ITG
TORA
EMS best customer support
Instinet
ITG
Morgan Stanley
TORA
Prime broker of the year
BNP Paribas
Cowen
Morgan Stanley
Nomura