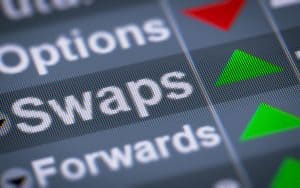 Several major banks were among the first to trade swaps referencing the new euro short-term interest rate (€STR) cleared by central counterparty Eurex Clearing.
Eurex Clearing said that BNP Paribas, Citi, Deutsche Bank, JP Morgan, LBBW, Morgan Stanley, Nordea and UniCredit traded the first €STR swaps, with a number of other banks also expected to provide liquidity and pricing through the Bloomberg and Tradeweb trading platforms.
"As €STR is maintained by the ECB, its establishment represents an important part of strengthening regulatory control within the EU27," Matthias Graulich, member of the Eurex Clearing executive board, added. "Eurex Clearing is fully supportive of these efforts, as shown by the clearing of these €STR swap trades as well as other innovations such as our approach to build an EU27-based alternative for euro swaps clearing."
The European Central Bank (ECB) began publishing the €STR benchmark on 2 October. Shortly after, Bloomberg confirmed JP Morgan and LBBW had executed the first €STR swaps trades via its UK multilateral trading facility (BMTF) in what was described as the first electronic trade using the new benchmark.
"We are very happy to be among the first to clear €STR swap trades in Frankfurt, and further emphasise Deutsche Bank's leadership as a market maker in euro-denominated swaps. We were also delighted to see the market's immediate focus on building liquidity and great support for this new offering from Eurex Clearing," Campbell Gilbert, head of European swaps trading at Deutsche Bank, commented.
Magnus Inness, head of flow derivatives trading at UniCredit, added that developing a strong cleared market as the industry shifts to an alternative risk-free rate environment is vital, as UniCredit supports clients managing and executing risk exposure.