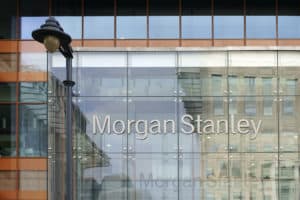 A multi-million-dollar trading loss suffered by Morgan Stanley due to the collapse of family office Archegos Capital Management was necessary and money well spent, the chief executive of the US investment bank has said.
Morgan Stanley confirmed that in the first quarter it incurred a $911 million loss from the event last month, including a net loss of $644 million from the amount Archegos Capital owed the institution but could not pay and a further $267 million in trading losses.
The investment bank liquidated large single stock positions through a series of block sales which were concluded on Sunday 28 March and then decided to de-risk the hedge fund's remaining smaller long and short positions as quickly as possible.
"I regard that decision as necessary and money well spent," James Gorman, CEO of Morgan Stanley, told analysts on the bank's first quarter 2021 earnings call. "The results are all reflected in the first quarter. I'm very pleased with how the institution came together and responded to this very complex situation."
Gorman added that the collapse of Archegos Capital, which took Wall Street by storm in March as several major investment banks reported multi-billion-dollar losses, would not impact its prime brokerage business. It may, however, scrutinise family-office relationships, which account for roughly less than 10% of Morgan Stanley's prime brokerage business, more intensely in future.
"[The prime brokerage business] is a core part and backbone of the equities business, and it doesn't change that at all. I think we'll certainly be looking hard at family office-type relationships, where they're very concentrated and you have multiple prime brokers," Gorman said.
"Frankly, the transparency and lack of disclosure relating to those institutions is just different from the hedge fund institutions. That's something I'm sure the [US Securities and Exchange Commission] is going to be looking at, and that's probably good for the whole industry."
Morgan Stanley is the latest major institution to report losses from the collapse of Archegos Capital in the first quarter, although its losses are far smaller than other prime brokers that were entangled with the hedge fund.
Credit Suisse confirmed a $4.7 billion hit from the event, while Nomura signalled it expects a $2 billion loss depending on unwinding of transactions and fluctuations in markets prices. Both banks were reportedly slower than Goldman Sachs, UBS and Morgan Stanley to offload Archegos Capital's positions.
Goldman Sachs confirmed in its first quarter earnings that average hedge fund balances hit record highs during the period as it avoided major losses. The bank was among the first to sell a large chunk of the family-office's portfolio, which triggered a significant $20 billion stock fire sale. Similar to Gorman, CEO of Goldman Sachs, David Solomon, also said he expects regulatory scrutiny from the fallout of the collapse.
Net revenues for the equities business at Morgan Stanley increased 17% in the first quarter compared to the same period in 2020 to $2.87 billion. The results included the total $911 million loss related to Archegos Capital.
"We're never happy taking a loss, but our job is to deal with the facts as reality, get on top of it and get it done, and that's what we did," Gorman added on the earnings call. "We have some phenomenal family office clients all over the world and they're tremendous institutions… This is not a judgment call on family offices, this is a very idiosyncratic event."