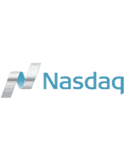 Nasdaq has removed OMX from its branding almost seven years after its acquisition of the Nordic exchange group.
The group will now simply be known as Nasdaq, a move aimed at reflecting its growing global presence.
"In the last 11 years, Nasdaq has moved from a private company that ran one US equities exchange to a company that powers 1 in every 10 securities trades on the planet," a Nasdaq spokesperson told theTRADEnews.com
"Nasdaq has developed into a diversified global group with a strong local presence. Its technology now powers more than 80 marketplaces in 50 countries."
Nasdaq OMX was formed when Nasdaq acquired OMX Group in February 2008, its first major acquisition outside of the US, though it was not its first attempt to set in Europe. In 2005 it made an offer for the London Stock Exchange Group but was rejected.
OMX itself was formed from the merger of Swedish-based OM AB and the Finnish Helsinki Stock Exchange in 2003. It went on to acquire the Copenhagen Stock Exchange in 2005 and the Icelandic Stock Exchange in 2006.
Under the new branding, the former OMX exchanges will be known as Nasdaq Stockholm, Nasdaq Copenhagen and so on.
The firm said it has had a positive impact on its local European exchanges.
"For our European listings, the association with Nasdaq has created an opportunity for exposure to Nasdaq's entire international investor network, On the whole, this has been a contributing factor in the increased popularity of European companies' shares abroad," the spokesperson said.
"The proportion of European listings' shares in relation to the total European share trading has increased consistently since 2008."