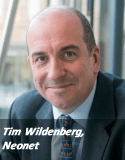 Neonet has made its full suite of algorithms available via SimCorp's investment management software solution.
The deal forms part of Stockholm-based agency broker Neonet's strategy to widen access to its execution services via third party execution management systems (EMS).
"As we engage with our client base over how best to provide them with our execution services, it has been clear they want us to connect to their EMS of choice and so we're rolling out our algos to the various systems depending on client demand," said Tim Wildenberg, CEO of Neonet.
Last year, Neonet signed a similar deal with REDI, the EMS formerly owned by Goldman Sachs, which became independent in 2013, enabling it to offer a broker-neutral service.
Wildenberg explained that Neonet will extend the availability of its execution services to other third-party platforms in the future, as it shifts its focus towards providing high quality execution to benefit from Europe's drive towards unbundling.
"In the past we've probably focused too much on getting clients to use our own systems rather than making our execution offering accessible, and that's something we're now addressing," he added.