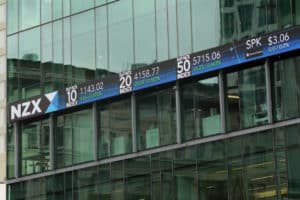 The chief information officer at the New Zealand Exchange (NZX) has resigned one month after the markets operator suffered a cyber-attack that forced it to close for four days.
NZX confirmed that David Godfrey has resigned and will leave at the end of 2020 after more than 11 years with the stock exchange. He had been chief information officer since February 2016 and had previously held various senior IT leadership roles.
Godfrey's resignation was announced after NZX was subject to a distributed denial of services (DDoS) cyber-attack in August, which forced it to close operations completely for four consecutive days. Once trading was resumed the NZX reported that the main NZX 50 index fell 0.24%.
DDoS attacks, which involve overwhelming the system of a target by delivering a heavy stream of information, have been described as one of the simplest forms of cyber hacking.
"NZX has changed materially over the years and we are very grateful for the contribution David has made to the business. His attitude, commitment, and support of everyone across the business – and through the wider capital markets community – has been first-class," said NZX chief executive, Mark Peterson. "We wish David all the best for the future."
A search for a successor to Godfrey is underway. Executive recruitment firm Hobson Leavy and NZX's technology committee will be involved in the selection process, NZX confirmed in a statement.