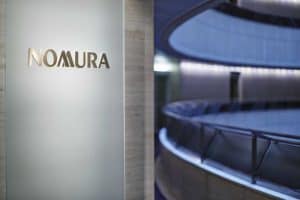 Nomura has joined emerging markets focused electronic communication network (ECN) platform DMALINK to provide Asian FX pricing to buy-side traders in New York, London and Singapore.
The Japanese investment bank teamed up with DMALINK to expand the FX ECN's ecosystem with eFX pricing pools during Asian hours.
Users will be able to trade through Traiana's NetLink across CLS and non-CLS pairs, with access to Nomura specific pricing across specialised pricing pools, reporting and analytics for a view of execution performance.
"We are pleased in confirming that Nomura has joined the platform," said Manu Choudhary, CEO of DMALINK. "The addition is driven by buy-side participant demand, achieving our core objective of providing data-driven regional institutional eFX services to existing and future collaborators."
DMALINK recently teamed up with Traiana to deploy its NetLink tool to aggregate trades on its New York and London platforms available to qualifying participants via its prime broker, NatWest Markets.
The partnership with DMALINK follows news in May that Nomura will launch an electronic FX pricing and trading hub in Singapore under a scheme from the Monetary Authority of Singapore.
Nomura joins a growing list of the largest market participants in launching an engine in Singapore as part of the regulatory initiative, including Northern Trust, Goldman Sachs, JP Morgan, BNP Paribas, BNY Mellon, Deutsche Bank, Barclays and Macquarie.
"Nomura is excited to be providing our liquidity to DMALINK. Our footprint in Asia aligns us well to DMALINK, which is primarily focused within the emerging markets. We look forward to contributing to DMALINK's Asian eFX business," Ian Daniels, head of eFX distribution EMEA at Nomura, added.