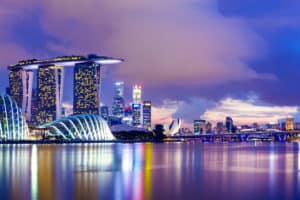 Investment bank Nomura has launched an electronic foreign exchange pricing and trading hub in Singapore with the support of the Monetary Authority of Singapore (MAS).
The launch comes as part of a wider regulatory initiative by MAS to attract some of the largest banks to Singapore in a bid to make it a major trading and corporate treasury hub.
Nomura joins a growing list of some of the largest market participants to have launched an engine in Singapore as part of the scheme including Northern Trust, Goldman Sachs,  JP Morgan, BNP Paribas, BNY Mellon, Deutsche Bank, Barclays and Macquarie.
"As a global financial services group with a strong presence in Singapore, we are fully committed to supporting the city-state's development as a major global FX hub," said Rig Karkhanis, deputy head of global markets and global head of FX and emerging markets at Nomura.
"This initiative, which is expected to go live later this year, will help support our clients with better infrastructure for execution, improved access to liquidity and effective price discovery."
The new e-FX pricing engine will be the fourth of its kind launched by Nomura, joining its trading engines already in operation in Tokyo, London and New York.
"MAS welcomes Nomura's establishment of its FX pricing and matching engine in Singapore. It will bolster the build-up of a critical mass of market participants in our FX e-trading ecosystem, and strengthen Singapore's proposition as a leading FX hub in the Asian time zone," added Lim Cheng Khai, executive director of financial markets development at MAS.