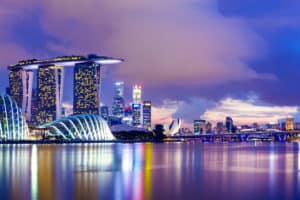 Macquarie has confirmed plans to establish a foreign exchange (FX) trading and pricing engine in Singapore in what will become the broker-dealer's third FX trading hub globally.
The trading hub, expected to launch in the first quarter next year, will be an extension of the commodities and global markets division's digital trading platform Aurora, which allows clients real-time access to Macquarie's products and services. 
Macquarie said locally hosted liquidity on the engine will give users access to developed and emerging regional markets including Australia, Singapore, Japan, China, Taiwan, Korea, and India. The brokerage operates similar FX trading and pricing engines in London and New York.
"We have a strong presence across Asia with extensive client coverage in deliverable and non-deliverable FX and derivatives," said Tom Freeman, managing director, Macquarie Commodities and Global Markets. "We also recognise the importance of technological innovation in global financial markets and we are excited to offer our clients access to FX liquidity in Singapore – at any time, and from anywhere – through this market-leading digital platform."
Macquarie's arrival in Singapore follows a string of market participants also choosing to set up trading hubs in the region as part of a regulatory scheme. US investment bank Goldman Sachs was the most recent arrival, confirming in September that it would be building an FX trading and pricing engine, also in the first quarter of next year.
The moves are part of the Monetary Authority of Singapore's (MAS) strategy to boost Singapore's status as the leading FX trading centre in Asia Pacific. Under the initiative, various other major financial institutions have rolled out FX trading systems in the region including JP Morgan, BNP Paribas, BNY Mellon, Deutsche Bank, and Barclays.
"We welcome Macquarie's establishment of its first FX pricing hub in the Asian time zone in Singapore. Tapping into the growing pool of global liquidity providers that are anchored in Singapore, Macquarie will be able to offer better price discovery and trade execution quality to its clients in the Asia Pacific region," said Lim Cheng Khai, executive director at MAS.