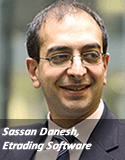 An ambitious project to simplify connectivity for OTC trades has received the backing of 25 market participants, including major institutional asset managers, and expects to begin its first phase of implementation before the end of the year.
Project Neptune, which is being developed by Etrading Software as an industry utility to provide low-cost, interoperable connectivity for OTC trades, now has the support in place to have its infrastructure ready by the end of 2015.
Initially focused on the fixed income market, the service could also be extended to other areas such as interest rate swaps, credit default swaps and FX products.
Etrading Sofware managing partner, Sassan Danesh, who is also co-chair of the OTC Products Committee at FIX Trading Community, said OTC market participants have proved highly innovative in dealing with many liquidity challenges that new regulation has posed in the fixed income space, but has concerns over accessibility.
"With so many different and diverse initiatives to improve OTC trading and liquidity, it's causing some paralysis, so we wanted to develop an interoperable solution to enable people to tap into liquidity in a simple manner by embedding connectivity within the market structure," he explained.
The fixed-income market has seen a number of new entrants and new platforms from established names in recent years to help solve its liquidity problems. Earlier this month, agency broker ITG became the latest player in the fixed income space when it announced it was launching a dark pool for bonds, and Etrading estimates around 30 new platforms have been discussed in the past two years, leading to fragmentation of the market.
To respond to this need, Project Neptune was founded and now has the backing of 25 major OTC market participants, including 10 large institutional asset managers.
Danesh added: "The sell-side has traditionally driven initiatives in the OTC space, but the buy-side is becoming much more vocal and involved in this today."
Neptune will aim to act as a central hub for firms to connect to new OTC trading venues without the high overheads traditionally associated with adding a new venture. Instead of having to manage multiple individual connections to different counterparties, participants using Neptune will only need one connection to the network, meaning the connectivity required to support new trading relationships can be established with "the flick of a switch".
Initially, Neptune will support OTC fixed income trading in Europe, but Danesh hopes it could eventually be applied globally and to a broad range of OTC asset classes. However, it will remain focused on helping the industry to cut costs in areas that do not make commercial sense to handle in-house.
"We've looked at the parts of the process that are creating costs without providing a competitive advantage and identified that connectivity could be provided as a utility that is fully inclusive with fair access rules," added Danesh.
The first phase of the project is due to be completed by the end of the year, with the 25 existing sponsors agreeing to standardised workflows. Phase two will involve getting those workflows adopted within each business in the first half of 2015 and Danesh hopes the infrastructure can be built before the end of next year.
Etrading Software is also discussing Project Neptune with several fixed income trading platforms which it hopes will support the initiative in time, and other sell- and buy-side firms are expected to join up once many of the standard workflows have been agreed by the main sponsors.