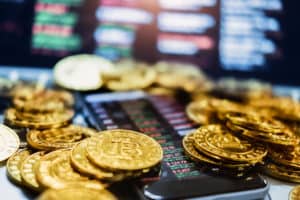 Swiss digital asset start-up SEBA Bank and securitisation platform GenTwo Digital have launched blended Actively Managed Certificates (AMCs) that combine crypto and traditional assets.
Combined with the GenTwo Digital securitisation platform, SEBA Bank's end-to-end offering in digital and traditional assets will allow asset managers, banks, and family offices, to build bankable products based not only on crypto but on traditional underlying assets as well, and then offer them to their clients in the form of AMCs. This eliminates the complexities and frictions involved in setting up custom investment products, it says.
Blended AMCs are a new addition to the AMC landscape. Stefan Schwitter, head of investment solutions at SEBA Bank, says AMCs have long been the choice for asset managers to set up their tailor-made investment strategies in a compliant and fast-to-market fashion.
"As the crypto asset market is moving mainstream, there is a lot of demand for a variety of crypto strategies such as long-only, decentralised finance, staking, arbitrage, derivative strategies and of course combinations thereof," he told The TRADE.  "AMCs offer advantages over more traditional investment funds in terms of flexibility and time-to-market. Specifically, AMCs can accommodate the full breadth of possible investment strategies in this new asset class and the product structure is such that it can be designed and launched within just a few weeks."
Using a 'white label' approach, banks and asset managers will have the option to provide their crypto or blended AMCs with their own specific fee models.  As part of SEBA's AMC platform, clients will receive access to a range of assets and trading in different fiat currencies across all bankable and digital assets of SEBA Bank's offering. 
While crypto assets have become an investment class in their own right, attracting professional and institutional money flows, Schwitter says when it comes to setting up investment strategies that involve crypto assets, investors are typically faced with a fragmented value chain.
"They need to find a structuring partner that understands crypto and digital assets, they need to find a trusted venue for trading and custody of crypto and also find a regulated investment partner with proven skills in analysing and managing crypto assets."
"The combined platform of GenTwo and SEBA Bank offers the entire value chain necessary for asset managers to set up their tailor-made crypto asset investment strategies in a regulated, compliant product format. It is the first turn-key solution of this kind, provided by two recognised leaders in the digital asset space."
Philippe A. Naegeli, CEO at GenTwo, says SEBA Bank's AMC platform will add value to many banks, asset managers and family offices, enabling them to develop "future-oriented product offerings."