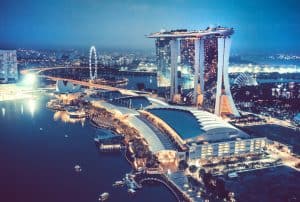 Singapore's competition authority has advanced its probe into the London Stock Exchange Group's (LSEG) takeover of Refinitiv due to concerns it could harm competition in index licensing.
The Competition and Consumer Commission of Singapore (CCCS) said it would move to phase two of its review of the $27 billion mega-merger as it cannot determine that access to key foreign exchange benchmarks would not be implicated by the transaction.
The advanced probe marks the latest obstacle for LSEG in its bid to acquire Refinitiv, after the European Commission said last month it also had concerns the deal would dampen competition in trading and clearing.
Singapore's CCCS has raised concerns about whether the merged entity will continue to supply Refinitiv's WM/R FX benchmarks at fair reasonable and non-discriminatory terms to rival other providers in the market. The WM/R FX benchmarks are key for index licensing and derivatives clearing services, and are considered the industry benchmark for FX reference rates.
Post-transaction, Refinitiv will be linked to LSEG's clearing house LCH and its index licensing business FTSE Russell, which CCCS said could reduce incentive to continue to supply inputs to rival providers.
"There is no reasonable substitute that rival index providers and derivatives clearing service providers are able to switch to without incurring significant disruption and costs to their businesses," the CCCS said. "CCCS is unable to determine at this stage whether competitors are able to deploy effective and timely counter-strategies to mitigate the risk of foreclosure by the merged entity of access to the WM/R FX benchmarks."
Last month, the European Commission expressed concerns that the merger would harm competition in trading and clearing, particularly in fixed income and OTC interest rate derivatives trading and clearing. LSEG said it remains committed to closing the transaction this year.