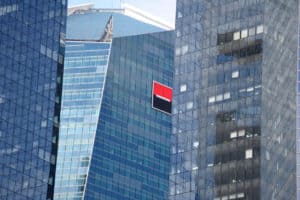 Societe Generale has finalised the acquisition and integration of the equity markets and commodities (EMC) business from Commerzbank, almost two years after announcing the major deal.
The French investment bank confirmed in July 2018 that it would acquire Commerzbank's EMC division, comprised of the manufacturing and market making of flow and structured products, as well as the asset management business and ETF franchise.
The transaction did not include the cash equity brokerage and commodities hedging business at Commerzbank, and terms of the deal were not disclosed.
Societe Generale said the transfer of EMC's flow trading books including the ETF product range, marking making and product issuances systems, has now been completed. The development marks the last step of integration of EMC activities within Societe Generale, after starting the project in the second quarter of 2019.
Various senior Commerzbank EMC employees have now joined Societe Generale in line with the integration, with new appointments including global head of ETF sales trading at Commerzbank, Frank Mohr, who is now global head of ETF institutional sales at Societe Generale. Elsewhere, Michael Seifried, head of flow trading at Commerzbank, has been appointed head of global markets in Germany & Austria at Societe Generale.
The deal with Commerzbank will bring multiple benefits to Societe Generale's clients, the bank said, due to an enlarged product range across more countries and asset classes. The transaction covered Commerzbank's activities in Frankfurt, London, Hong Kong, Paris, Luxembourg and Zurich.
"In line with the bank's strategy to diversify its market business model by leveraging on its core franchises, the integration of these flow activities will allow us to reinforce our exchange-traded investment solutions' offer and our pan-European footprint, notably in the German exchange-traded products market, the most developed market in Europe," Jean-François Grégoire, head of Global Markets at Societe Generale, commented.
Guido Zoeller, group country head of Germany & Austria at Societe Generale, added that the integration will also allow the bank to scale up its services, particularly in Germany, by leveraging Commerzbank's exchange-traded products franchise, team and technology platform.  
Societe Generale's finalisation of the Commerzbank deal follows a collapse of the bank's equities revenues, which plummeted almost 99% to just €9 million in the first quarter this year, after recording a €200 million loss on structured products linked to dividend payments. Societe Generale CEO, Frédéric Oudéa, said in an interview with the Financial Times that the institution may have to rethink its equities business and reduce the amount of risk it takes on.