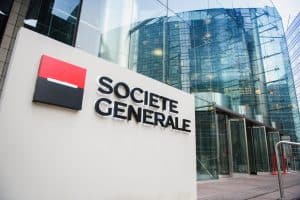 Societe Generale may have to seriously rethink the amount of risk it takes after the bank reported revenues for its equities business were virtually wiped out in the first quarter.  
The French bank recorded a first quarter net €326 million loss with equities revenues collapsing nearly 99% to just €9 million. 
In comparison to its other European rivals which posted gains in the business, Societe Generale was particularly exposed when a swathe of companies cancelled dividends to conserve cash during the Coronavirus pandemic, which resulted in a €200 million loss on structured products linked to potential future shareholder payments.  
The situation for Societe Generale was compounded due to the fact that it did not hedge current year dividends, betting that companies would not cancel their payments.  
The bank was also hit but several other losses, including €175 million in provisions to cover future hedges and a further €55 million loss on counterparty defaults, of which the latter is understood to be from a single large hedge fund that hit the prime brokerage business.  
According to an article from Bloomberg News, Societe Generale was one of the prime brokers used by Malachite Capital Management, a New-York based hedge fund with €600 million, that defaulted in March when its volatility-based bets went awry.  
 In an interview with the Financial Times, the bank's CEO Frédéric Oudéa said it may have to rethink its equities business and reduce the amount of risk it takes on.  
 "We saw something extraordinary and to a certain extent the worst environment you can imagine for these products," said Oudéa in an interview with the FT. "We will have to accelerate the transition to simpler products to limit the impact in such incredible scenarios." 
 There were some bright spots for the bank, including a 32% increase in fixed income revenues driven by improved performances in listed rates products, flow derivatives and prime services. 
 Societe Generale replaced its veteran head of global markets, Frank Drouet, last year with former risk chief Jean-Francois Gregoire to turn around the fixed income business while also aiming to sustain its strength in equity derivatives. 
In April, Societe Generale had also hired the global head of sales for electronic equities trading at HSBC to lead a newly created team as part of a major revamp of the bank's prime brokerage business in Asia-Pacific.   
 This included two new teams for prime brokerage in the region, including a client account management team to support hedge funds throughout the investment lifecycle, as well as a new coverage team to streamline access to electronic channels.