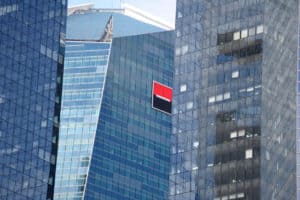 Societe Generale will cut more than 600 jobs in France under plans to restructure and cut costs across its credit and equity derivatives structured business following huge losses earlier this year.
In a statement, the French investment bank said the latest cost-cutting measures would result in the reduction of 640 positions in France without forced redundancies.
Societe Generale added it is aiming to reduce costs across the credit and equity structured products business by €450 million by 2023 in a bid to improve the profitability of those activities.
The plans follow a near collapse of Societe Generale's equities revenues in the first quarter this year, which was linked to a €200 million loss on structured products due to cancelled dividend payments.
Societe Generale was hit particularly hard at the time because it did not hedge current year dividends, betting that companies would not cancel their payments.
In the bank's latest third quarter earnings results, Societe Generale noted a sharp rebound across its equities business and a gradual recovery in structured product revenues compared to earlier in the year.
"In Q3 2020, Societe Generale Group demonstrated its ability to rebound and its financial solidity," the statement said. "The Group also reaffirmed its determination to continue the in-depth adaptation of its businesses and functions in order to sustainably improve its commercial and financial competitiveness in a deteriorated and uncertain economic environment."
Elsewhere, securities services and other divisions including risk, compliance, HR and communications, may undergo similar cost-cutting restructures to improve operational efficiency, Societe Generale concluded.   
Earlier this year in May, the bank completed the integration of the equity markets and commodities business from Commerzbank, almost two years after announcing the major deal. The business is comprised of the manufacturing and market making of flow and structured products, as well as the asset management business and ETF franchise.