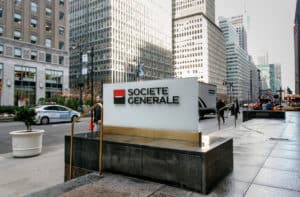 Société Générale has promoted one of its own to become its new global head of institutional sales for fixed income and currencies.
According to an update on social media, Bruno Laurier, Soc Gen's former global head of FX sales for its corporate business has been appointed to lead the sales operations for its institutional fixed income and currencies business.
Since joining the bank in 2001 he has operated across several derivatives sales roles including deputy global head of the division for seven and a half years before his most recent role.
Prior to joining Soc Gen in 2001, Laurier spent three and a half years in a derivatives sales role at the bank's domestic rival BNP Paribas.
"Along with his teams, Bruno Laurier will continue to bring to our clients the bank's unique set of expertise, from flow to bespoke derivatives and sustainable and positive impact finance solutions," said Soc Gen in its social media update.
Laurier's appointment comes as part a series of new hires throughout the course of this year as the bank continues to reshuffle its leadership.
Soc Gen appointed two co-heads of its global markets division in June after the former sole head, Jean-François Grégoire, left the bank after just over two years in the position. The bank confirmed at the time that he was pursuing other opportunities outside of the French institution.