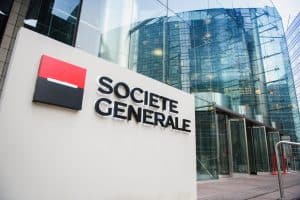 Societe Generale has assigned a new head of its global markets business after confirming plans to cut costs across its investment banking business by €500 million.
Jean-François Grégoire will take on the role from Frank Drouet, who is pursuing new opportunities after 30 years with Societe Generale. Grégoire was previously deputy group chief risk officer, and first joined the French bank in 1996 as an equity derivatives trader.
Following a difficult fourth quarter, Societe Generale said it plans to reduce costs within its investment banking and markets business by €500 million in 2020 following a review of its fixed income and foreign exchange divisions.
Societe Generale reported an 8.3% drop in revenues across its global markets and investor services business in 2018 compared to the year prior, citing an unfavourable market environment impacted by political tensions in Europe and the trade war between the US and China.
Fixed income, currencies and commodities suffered a 16.8% decrease for the full year compared to 2017, with fourth quarter revenues down a significant 28.8% year-on-year. At the same time, equities and prime services dipped 4.4% in 2018, and a stronger performance in prime services failed to offset a fall in derivatives revenues.
"Our first priority is, and will remain, to increase value for shareholders while consolidating our capital trajectory. We will be even more selective in our capital allocation, prioritising the Group's areas of excellence," said Fréderic Oudéa, Societe Generale Group CEO.
"Moreover, in a more uncertain economic environment, we will continue to work on our operating efficiency with an additional plan to reduce costs in Global Banking & Investor Solutions and we are further prioritising cost control. All these measures and the Group's transformation will enable us to improve our operational profile and pursue the improvement in the structural profitability of our businesses."
News of the cost reductions follows similar plans made by BNP Paribas earlier this week to reduce its costs and expenses by €600 million following a difficult fourth quarter. BNP Paribas made a pre-tax loss of €225 million for its global markets business, with a €70 million loss on a derivatives index trade contributing to the decline.