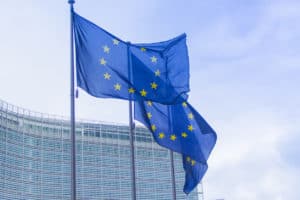 S&P Global has been given a conditional green light from the European Commission for its $44 billion acquisition of IHS Markit, announced in November last year.
If successful, the transaction would combine the business information providers' offerings to create a data and analytics powerhouse to rival that of Bloomberg and Refinitiv, offering extensive solutions across data, platforms, benchmarks, and analytics across climate, energy transition and ESG.
In terms of annual revenue, S&P Global is currently third in the market after Bloomberg and Refinitiv, however, the addition of IHS Markit's business has the power to change that.
The European Commission launched an investigation into the deal in September, finding that it had the potential to damage competition through price increases and a reduction of choice for participants in the market.
However, the Commission's announcement on Friday, said that remedies proposed by S&P Global and IHS Markit – including the divestment of IHS Markit's Oil Price Information Service, and S&P Global's CUSIP issuance and data licensing business, leveraged loan 100 index family, and its leveraged loan market intelligence product Loan Commentary and Data – satisfied its concerns around competition.
"S&P Global and IHS Markit are leaders in the commodity and financial data markets," said Margrethe Vestager, executive vice-president of the Commission, in charge of competition policy. "Without remedies, the merger would have limited customers access to some competitive and reliable data which is essential to ensure fairness of physical trades and financial markets." 
"With this conditional approval, the problematic overlaps in commodity price assessments, and also in the area of loan identifiers and indices are fully removed, to the benefit of competition."
Following this approval, S&P Global and IHS Markit said they expected the deal to close in the first quarter of next year.
However, the Commission was not the only regulatory body to raise competition concerns over the deal after the UK Competition and Markets Authority (CMA) also began looking into the deal in June, inviting participants to comment on the potential damage it could pose under the merger provisions of UK competition law in August.
The CMA updated the status of its inquiry on 19 October, concluding that the deal would damage competition, particularly in the supply of price assessments of biofuels, coal, oil, and petrochemicals in the UK.
It has invited S&P Global and IHS Markit to submit proposals to address these concerns and prevent the deal being referred for a Phase 2 investigation which could lead to conditional approval like that given by the Commission or even the prohibition of the merger altogether.