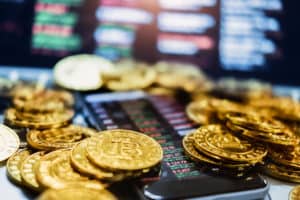 Standard Chartered's innovation unit, SV Ventures, and BC Technology Group have partnered to launch an institutional digital asset brokerage and exchange platform.
The new company will be based in the UK with an initial focus on the European market, connecting institutional traders to counterparties across markets and access to liquidity pools in Bitcoin, Ethereum and other digital assets.
The intiative remains subject to regulatory approvals but is expected to launch in the fourth quarter of this year.
Usman Ahmad, chief information officer of BC Group has been appointed chief executive of the new company, while SV Venture's Nick Philpott has been appointed chief operating officer.
BC Group's digital asset platform, OSL, which is licensed by the Hong Kong Securities and Futures Commission (SFC), and Standard Chartered's global brokerage network will underpin the joint venture.
"With total market capitalisation of digital assets over USD 1 trillion, collaboration between market-leading firms is imperative to the continued development of robust global institutional digital asset infrastructure," said Usman Ahmad, incoming CEO of the new joint venture.
"The JV [joint venture] will aid in maturing the digital asset ecosystem by combing OSL's expertise in regulatory compliant, secure institutional digital asset trading with SC Ventures' proven capability to develop future technology capabilities in banking and finance."
"We have a strong conviction that digital assets are here to stay and will be adopted by the institutional market as a highly relevant asset class," said SC Ventures' Alex Manson.
"We are constructing the building blocks for a safe and reliable investment infrastructure: on the back of Zodia Custody, which will ensure safe and compliant custody for institutional investors, the new company will provide a brokerage and exchange platform to enable safe adoption and trading by the world's largest and most demanding investors."
The growth of the digital-asset market, which SC Ventures and BC Group claimed to have a market capitalisation of $1 trillion in June 2021, has attracted the attention of several major financial institutions.
A recent study by the Alternative Investment Management Association (AIMA) found that almost half of traditional hedge funds were either investing or considering investing in cryptocurrencies.