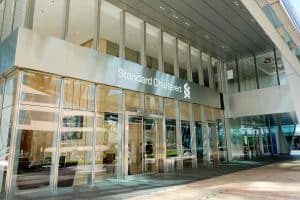 Regulatory authorities in the US have slapped Standard Chartered with a $40 million fine after traders were found to have used chatrooms to rig transactions in foreign exchange (FX) markets.
Financial service superintendent, Maria Vullo, said that the New York Department of Financial Services (DFS) had ordered the fine on Standard Chartered after it admitted failing to deter illegal FX trading activities between 2007 and 2013. 
According to the regulator, salespeople and desk traders at Standard Chartered in London and New York used chatrooms, emails, phone calls and personal meetings in attempts to rig FX trades. The DFS concluded that tactics included coordinating trading and spreads, manipulating benchmarks, sharing confidential information and trading to move prices in certain markets.
During the period between 2007 and 2013, traders at Standard Chartered used a chatroom called 'Old Gits', which one trader described to a new member as being a "den of thieves", the case cited. Those traders already members of the chatroom would vote on whether new members could join based on how trustworthy they were.
Standard Chartered's management failed to supervise the bank's FX trading business to ensure compliance with regulations, the DFS said, but it cooperated with authorities, providing documents and taking disciplinary action against the traders involved in the illegal activities.
"The integrity of the global financial system is compromised when the hunger for profit leads bankers and traders to turn a blind eye to the kind of illicit activities uncovered by DFS's broad investigation," superintendent Vullo commented. "DFS appreciates Standard Chartered's cooperation in this matter and the bank's acknowledgement of its critical obligation to ensure that its business is conducted lawfully."
The fine against Standard Chartered follows previous penalties worth $3.14 billion that the DFS has imposed upon Barclays, BNP Paribas, Credit Suisse, Deutsche Bank and Goldman for similar activity and manipulation in FX markets.