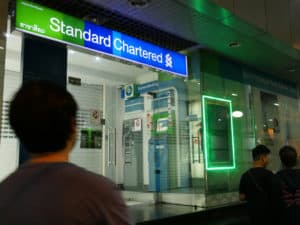 Investment bank Standard Chartered has set aside a total of $900 million to cover financial penalties it expects from regulatory authorities in the US and the UK.
In a statement ahead of announcing its full year results on 26 February, Standard Chartered said that the penalties are related to historical violations of US sanctions laws, as well as UK financial crime control failures.
The UK's Financial Conduct Authority (FCA) has handed Standard Chartered its decision notice related to a previously disclosed investigation regarding the bank's financial crime controls, imposing a penalty worth more than £100 million net of a 30% early settlement discount.
Standard Chartered has been caught up in violations of US sanctions laws since the early 2000s, and was fined a total of $667 million in 2012 by the Federal Reserve, the Department of Justice and the New York Department of Financial Services. The penalties were related to violations of US sanctions on Iran, Sudan, Burma and Libya.
The $900 million provision will also cover Standard Chartered's recent $40 million fine from the New York Department of Financial Services, after some of the bank's traders were found to have used chatrooms to rig and manipulate FX trading activities.
According to the regulator, salespeople and desk traders at Standard Chartered in London and New York used chatrooms, emails, phone calls and personal meetings in attempts to rig FX trades. Tactics included coordinating trading and spreads, manipulating benchmarks, sharing confidential information and trading to move prices in certain markets.
"Standard Chartered continues its discussions relating to the potential resolution of the previously disclosed investigation by the US authorities relating to historical violations of US sanctions laws and regulations," the company said in its statement.
"This provision reflects management's current view of the appropriate level of provision. Resolution of the US investigation and of the FCA process might ultimately result in a different level of penalties."