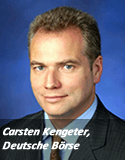 Deutsche Boerse reported a 7% increase in its annual revenues as its chief executive Reto Francioni prepares to hand over the reins to his successor Carsten Kengeter.
Derivatives platform Eurex was one of the largest drivers behind the growth, with its revenues up 8% year-on-year, while post-trade services provider Clearstream also saw a 7% net revenue increase.
Both segments have also had a strong start to 2015, with Eurex's Q1 revenues up 18% and Clearstream's growing 12% year-on-year.
Francioni said the results have been achieved throughout tough times in Europe's markets.
"We were able to achieve these positive results despite the extremely difficult environment," he explained. "For example, the record low European Central Bank interest rates have put pressure on our interest income.
"In addition, uncertainty about the future shape of capital market regulation have unsettled market participants: there are still plans for a financial transaction tax. And there has been a further delay in the political implementation of the European Market Infrastructure Regulation, or EMIR, for which we developed a derivatives clearing offering in good time." 
With interest rates low, it has been Eurex's index and equity derivatives segments which have propped up trading volumes. Francioni also commended the futures exchange's 'innovative' volatility products, which have seen an uptick in activity.
Francioni is set to leave the exchange group at the end of the month, as the former head of UBS Investment banking takes over at the helm.
Kengeter joined UBS's investment banking arm as co-CEO in 2009, before also becoming chairman in 2012. 
Previously he was a managing director and partner at Goldman Sachs, responsible for the areas of pensions, currencies and commodities for 12 years.