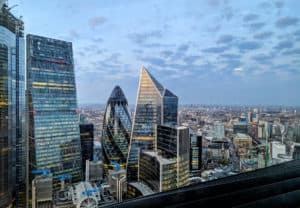 The UK's capital has regained its status as the leading financial hub in Europe over Amsterdam in June after falling behind following the Brexit deadline on 31 December. 
London's average daily volume turnover (ADVT) in equities rose to €8.92 billion in June, surpassing Amsterdam which came in at €8.8 billion, data collated by Cboe confirmed. 
The City took several sizeable hits following the Brexit deadline, most notably the loss of around €8 billion in EU share trading volumes following a lack of an equivalence decision between the UK and the EU on the share trading obligation. 
Cboe Global Markets' head of European equities, Natan Tiefenbrun, told The TRADE the reintroduction of Swiss securities into the UK's stock universe and UK regulator's competition fostering approach to regulation were essential to the City regaining its crown in June.
"The mutual equivalence agreed between the UK and Switzerland, which allowed UK venues to reintroduce trading in Swiss equities and bring back a full range of execution venues including lit, dark, periodic auctions, and large in scale (LIS) mechanisms to this market, has allowed UK venues to capture additional volumes and deliver value to intermediaries and investors," Tiefenbrun said. 
Swiss stocks were reintroduced on UK-based trading venues on 4 February after the UK and Switzerland came to a decision on mutual equivalence on 28 January. Both countries found themselves in similar stalemates with the EU, after Switzerland was denied renewed equivalence by Brussels in 2019. 
The UK Treasury and Financial Conduct Authority (FCA) have subsequently launched several regulatory divergence initiatives in a bid to foster interest in the City, with dark trading at the centre of these.
Both UK authorities moved to scrap the double volume caps (DVCs) related to dark trading in April, confirming in a statement from the Treasury earlier this month that this would be actioned. The FCA also confirmed it would be lowering LIS thresholds for dark trading, as the EU has continued to discourage dark trading. 
"Swiss stocks tend to trade in chunky sizes, it's a very large cap centric market so large blocks are common and we've seen trade sizes of over €70 million in this segment on our LIS service since its reintroduction in February. That's been a big contributing factor," added Tiefenbrun.
"A combination of a busy UK market and growth in Swiss names on UK venues has driven the numbers in June. It's the open pro-competition stance of the FCA which has set the ground for that growth. Over the longer term having a more outward looking pro-competition approach with support for diverse trading models will advantage the UK if it's something that the EU doesn't do."