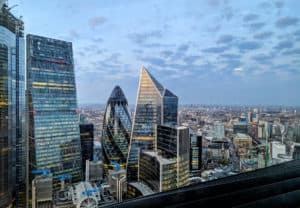 The Bank of London has become the sixth principal clearing bank of the United Kingdom, boasting a $1.1 billion valuation and an objective to power the borderless economic infrastructure of the future.
The company, which has been led by an executive team of industry pioneers and a board of global leaders, enters the market with the significant valuation, making history as the first pre-revenue bank to receive 'unicorn' status upon debut.
The Bank of London becomes only the second new clearing bank in over 250 years.
The clearing bank has raised $120 million to date, with its latest $90 million round led by ForgeLight, and follow-on investment from 14W Venture Partners and Mangrove Capital Partners, with additional investment committed over 18 months.
The funds raised by the bank immediately rank it in the UK's top 10 most valuable FinTechs.
The bank has said it is currently in advance talks with regulators in the European Union and North America as part of its international growth strategy.
Over 3,000 people across the UK, EU and North America are expected to be hired by the bank over the next five years; the majority of the hires initially made in the UK.
"We've spent over four years working quietly in the background, bringing together veteran banking experts, leading creative innovators and visionary technologists to build, patent and validate truly game-changing technologies and innovations to transform the very fundamentals of banking," said Anthony Watson, founder and group chief executive of The Bank of London.   
"We leverage our leading-edge proprietary technology innovations and differentiated bank capabilities to remove unnecessary risk, unlock liquidity and deliver revolutionary products and services at significantly lower costs to enable near instant settlement without a financial intermediary in the flow of funds."
The Bank of London will enter the marketplace with three distinct market offerings.
Firstly, in terms of global clearing and settlement, the bank said it will take on established banks in the market for clearing and settlement.
Secondly, with regard to global transaction banking, it is looking to deliver transactions banking services for the corporate market.
Lastly, in respect to global agency banking, the FinTech outfit will provide a platform-as-a-service offering that will aid companies wanting to embed payments into their products.
"For the past four years, some of the brightest minds in banking, technology, economics, regulation, and business have come together as part of this team to transform and simplify clearing and transaction banking, the often unseen and neglected, yet vitally important, part of our financial superhighway," said Harvey Schwartz, group chairperson of The Bank of London.
"The Bank of London is uniquely positioned to provide innovative solutions that enhance a vital portion of the interconnected global financial system. We are purpose-built, culturally, and technologically. The Bank of London is innovating at our financial system's core, so that our clients are best served with a safer, faster, more cost efficient and effective set of service offerings."