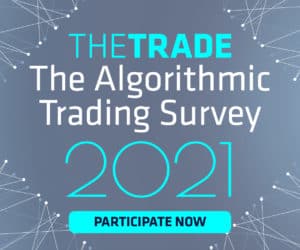 Institutional investors and asset managers are invited to rate the features and capabilities of their algo providers in The TRADE's 2021 Algorithmic Trading Survey.
Now in its 14th year, The TRADE's 2021 Algorithmic Trading Survey will be live for buy-side participation until 26 February, with 'Long-only' and 'Hedge fund' results due to be included in the Spring and Summer issues of The TRADE magazine, respectively. We encourage algorithmic trading providers to support client participation.
The TRADE has teamed up with global research and advisory firm, Aite Group, to produce analysis of the survey results and an in-depth research report based on 10 years of historical back-data from the survey, which is now available for market participants to purchase.
The survey produced some intriguing themes in 2020, with long-only results suggesting that access to dark pools and liquidity remains a key focus for asset managers while hedge funds have upped their use of algorithms to reduce market impact.
The average score from long-only respondents for the survey in 2020 was 5.71 – a slight decrease on the average score of 5.74 in the year prior, but an increase on the 2018 average score of 5.60.
In contrast, the average score from hedge fund respondents in the 2020 survey was 5.77, up slightly from the 2019 survey average score of 5.72. While this indicated the industry has made progress in quality of execution, there is still room for improvement. 
To participate in the survey, please click here.
The full 2020 Algorithmic Trading Survey long-only results can be viewed here, and hedge fund results can be viewed here.