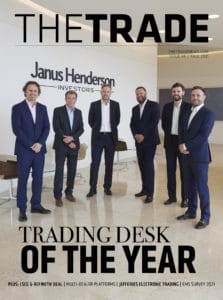 The Autumn 2021 issue of The TRADE magazine is now available to read online. Explore the content of the latest issue:

Buy-side cover interview – After being awarded 'Trading desk of the year' at The TRADE's 2020 Leaders in Trading ceremony, Richard Worrell, head of EMEA equity trading at Janus Henderson Investors, and his team of traders tell Hayley McDowell about their quest for marginal gains in execution performance.
The Big Interview – Cboe Europe's head of equities, Natan Tiefenbrun, sits down with Annabel Smith to discuss ongoing market trends and events that are impacting the European equities landscape.
Safeguarding a legacy: the Refinitiv deal – Following the London Stock Exchange Group's blockbuster acquisition of Refinitiv earlier this year, Annabel Smith takes a look at what the deal means for the future of the exchange operator.
FICC bilateral trading? Not enough incentive for the buy-side – As research suggests multi-dealer platforms are increasingly costly for market participants, Annabel Smith explores whether this has encouraged FICC traders to move away from multi-dealer towards bilateral trading.
March Madness 2.0: The Archegos fallout – The disastrous entanglement with Archegos Capital Management and its spectacular collapse has left the prime brokerage industry reeling with over $10 billion in losses across the Street. The event has resulted in a major shift in attitudes around risk management, but how far-reaching will these changes be on their relationships with clients? Asks Joe Parsons.
The 2021 Execution Management Systems Survey – Results from The TRADE's 2021 Execution Management Systems Survey show that EMS vendors are investing in their platforms to cater for increased demand from the buy-side for multi-asset trading capabilities.