The Spring 2022 issue of The TRADE magazine is now available to read online. Explore the content of the latest issue: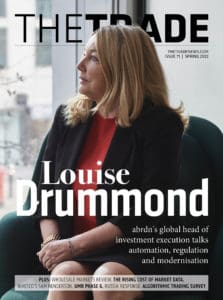 Buy-side cover interview – Following its notorious rebrand, Annabel Smith sits down with global head of investment execution at abrdn, Louise Drummond, to discuss the asset management giant's plans for the future exploring automation, regulation and changing market structure. 
The BIG Interview: Head trader for EMEA equities at Invesco, Samuel Henderson, talks to Laurie McAughtry about the growth of systematic trading, the importance of portfolio manager engagement, and why big data is going to be the differentiator of the future. 
The TRADE's 2022 Algorithmic Trading Survey: Results from The TRADE's 2022 Algorithmic Trading Survey find that ease of use, customer support and services, dark pool access, and increased trader productivity remain the most impactful features of algorithms for buy-side users. 
Data is too expensive and here's why: Amid a slew of regulatory reviews over current pricing models, and with a consolidated tape on the cards in the UK and Europe, Annabel Smith explores how and why the cost of market data is increasing and what this means for both providers and participants on the buy- and sell-side. 
ESMA firms up multilateral system definition under MiFID II in bid to level playing field: Regulator to consult on technology provider, request for quote system and pre-arranged transaction system use cases that challenge the trading venue perimeter. 
HM Treasury makes first set of sweeping changes to wholesale markets post-Brexit: Following HM Treasury's first response to its Wholesale Markets Review consultation, Annabel Smith unpacks the government's regulatory changes including plans for a consolidated tape and changes to the systematic internaliser regime. 
UMR Phase 6: The time to prepare is yesterday: Drawing comparisons with some of the most rigorous and pressing regulations in recent memory, Phase 6 of Uncleared Margin Rules is set to hit 1,100 buy-side firms in September. While Q3 might seem a long way off, as ever with regulatory preparations, firms are being urged to act now around controls, documentation, testing and data flows. Wesley Bray looks at the latest round of this regulation and how firms can prepare. 
A controlled collapse: The decisive market response to Russia's invasion It would be impossible to publish a comprehensive Spring edition without mentioning the seismic impact that the Russian invasion of Ukraine has had on the markets. The TRADE is well aware that the situation is both fast-moving and unpredictable, and that what happened in the first quarter may well be out of date by the second. Nevertheless, we feel it is important to record the initial reactions and responses to the crisis. Laurie McAughtry offers up a summary of the latest developments at the time of going to print.